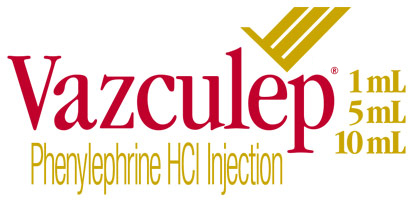 Choose Vazculep, the only FDA-Approved Phenylephrine HCI Injection available in all 3 vial sizes – 1mL, 5mL and 10mL.
Manufactured in a cGMP facility with a commitment to have adequate inventory in order to ensure an uninterrupted supply of product
Available with all leading wholesalers
---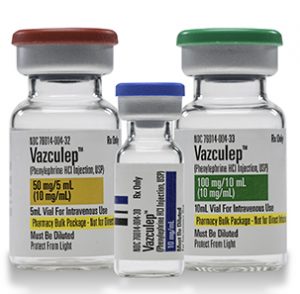 INDICATIONS AND USAGE
VAZCULEP® (phenylephrine hydrochloride) Injection is an alpha-1 adrenergic receptor agonist indicated for the treatment of clinically important hypotension resulting primarily from vasodilation in the setting of anesthesia.
Important Safety Information
CONTRAINDICATIONS
None
WARNINGS AND PRECAUTIONS
Extravasation during intravenous administration may cause necrosis or sloughing of tissue.
Severe bradycardia and decreased cardiac output.
Allergic-type reactions: Sulfite.
Concomitant use with oxytocic drugs: Pressor effect of sympathomimetic pressor amines is potentiated.
ADVERSE REACTIONS
Most common adverse reactions during treatment: nausea, vomiting, and headache.