Choose Bloxiverz, the first FDA-Approved Neostigmine Methylsulfate Injection, USP.
Now there is a clear choice among Neostigmine Methylsulfate Injection products offering proven efficacy.
ACCURATE LABELING/DOSAGE
PROVEN SAFE AND EFFECTIVE
---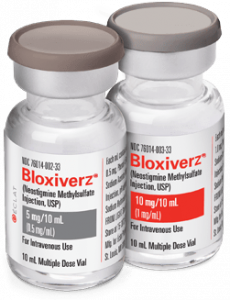 INDICATIONS AND USAGE
BLOXIVERZ, a cholinesterase inhibitor, is indicated for the reversal of the effects of non-depolarizing neuromuscular blocking agents (NMBAs) after surgery in adults and pediatric patients of all ages.
Important Safety Information
CONTRAINDICATIONS
BLOXIVERZ is contraindicated in patients with known hypersensitivity to neostigmine. It is also contraindicated in patients with peritonitis or mechanical obstruction of the intestinal or urinary tract.
WARNINGS AND PRECAUTIONS
Atropine or glycopyrrolate should be administered prior to BLOXIVERZ to minimize risk of bradycardia.
BLOXIVERZ should be used with caution in patients with the following coexisting conditions as serious reactions may occur: coronary artery disease, cardiac arrhythmias, recent acute coronary syndrome or myasthenia gravis.
Neuromuscular dysfunction can occur if large doses of BLOXIVERZ are administered when neuromuscular blockade is minimal; reduce dose if recovery from neuromuscular blockade is nearly complete.
ADVERSE REACTIONS
The most common adverse reactions during treatment are bradycardia, nausea and vomiting.